ELKHART MOOSE
FAMILY CENTER #599


OUR LODGE

1500 CR 6 West

Elkhart, IN 46514

574-264-1522 or 574-264-1712

fax 574-262-5783

---

Lodge Office Hours: Monday thru Friday 9am-2pm

Social Quarters Hours:

Monday and Tuesday 3pm-10pm

Wednesday 11:30-10pm

Thursday 3pm-10pm

Friday and Saturday

11:30am - 11:30pm

Sunday CLOSED

Dining Room Hours:

No longer open for lunch.

DINNER HOURS:

Wednesday and Thursday

5pm-8pm

Friday

5pm-9pm
Saturday
5pm-9pm

THIS IS THE PLACE WHERE GOOD FRIENDS AND A GREAT TIME COME TOGETHER!

Full service dining room, bingo, bands, social quarters, family events, even something for the kids!

Newsletter in COLOR

The Moose Organization is Proud to provide Children and Seniors with safe homes and bright futures!


MOOSEHEART CHILD CITY & SCHOOL

is a community and school for children and teens in need, located on a 1,000-acre campus, 38 miles west of Chicago.

Mooseheart provides complete home care, education and training for youth whose families are unable, for a wide variety of reasons, to care for them.

Below is a video about Mooseheart and some stories of children who live there.

Moosehaven, the "City of Contentment," 70 beautiful acres on the shore of the broad St. Johns River in Orange Park, FL, 15 miles south of metropolitan Jacksonville.
Moosehaven has provided thousands of Moose members and their spouses with a secure, relaxed, and enjoyable retirement experience.
Improved Functionality For
Online Dues Payment
<<CLICK HERE
Effective June 1, 2011, members can pay their dues online using the new and improved QuickPay
program. How does this program differ from the old program?
The new program gives you the ability to pay up to ten years of current membership dues.
It gives you the ability to pay your dues early without having to wait for a renewal notice.
For multiple members, it gives you the ability to pay any/all of your memberships at the same time.
It gives Moose Legionnaires the ability to pay Moose Legion dues only.
If you have any questions, or do not have a computer and would like to pay dues using your debit/credit
card, please don't hesitate to contact Member Services at 630.906.3658.
They will be happy to assist you with your payment Monday - Friday, 8:00 AM - 4:45 PM Central Time.
Members ONLY!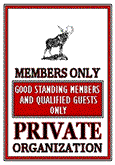 Important Notice: The Loyal Order of Moose is a private organization. All activities and events referred to on this Web site and in the Moose newsletter are available to members in good standing and their qualified guests only. This web site is for informational purposes with proprietary information intended for members only. General information is available to the public at large, but should not be construed to be solicitation for membership. This web site is an initiative of Elkhart Moose Lodge No. 599, and is not sanctioned by the Loyal Order of Moose, Moose International or any subsidiary thereof. All logos, trademarks and servicemarks pertaining to the Loyal Order of Moose and/or its programs or degrees are copyrighted © by Moose International, Inc., Mooseheart, Illinois.




---